Yesterday, a colleague at work invited me to attend a theme-specific event at the local skating rink tonight. The activity is targeted towards patrons who grew up during the 80's. Just the thought of it excites me! The hair, the bright colored clothing, and more. I would love to go, but a prior engagement denied me the opportunity to see it for myself. Would it make a difference if I knew it sooner? Probably.
One of my resolutions this year is to shift my [real-life] social life a notch higher. Aside from my workplace, it mainly consists of flipping through the pages of my Facebook account. Yupe, reality bites. To be on top of what's going around the area – I subscribe to some of the Facebook pages of local establishments, so whenever they have an upcoming event. Here is the kicker – it is not enough. The options are very limited. I know, somewhere out there, there are interesting events and activities that I do not know of. Most importantly, something that do not cost an arm and leg.
A new website called Vimbly.Com is what I should look out for. It eases the burden of finding interesting events, classes, activities and date ideas in 18 major cities in the country, and more to come this year. With a single webpage, it consolidates the advertisements from different business and enables me to book directly on the same site. Awesome, right?
It is no-brainer to use. Since the listing is enormous, the filter feature comes in handy. Remarkably enough, the choices of interests are shown as images including the gender. Basically, the page display multiple images and I just clicked on what tickles my brain. At the end of the process, it gives me a variety of available activities with the details, including the cost. Here are the categories to choose from:
If you are curious, here is the activity that captivated my interest.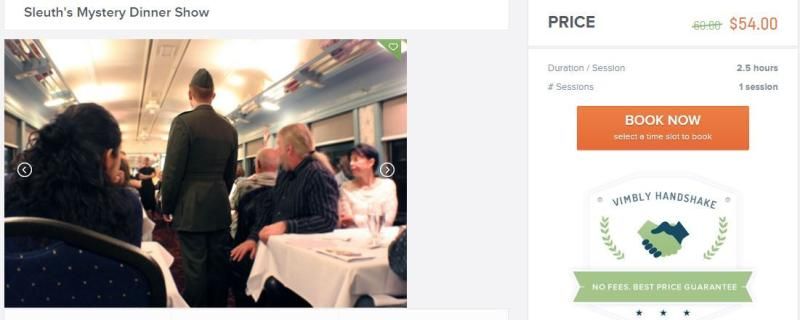 I have seen a dining activity like Sleuth's Mystery Dinner Show in a TV show sometime ago, but I never thought that it was real until now. This would be a totally new experience for me and my family. This is something that will definitely happen soon.
Disclaimer : This is a paid post.