This post brought to you by Astrobrights Papers by Neenah Paper.  All opinions are 100% mine.
Exactly a month from now, the schools in Volusia County will start again. I have yet to buy supplies for my little mushroom. Anyway, there is this paper product that will surely be a good addition to my shopping list. It is called AstroBrights papers, which are sold in 23 bright colors. It is not only suitable for school projects, it is also good for home craft creations and business uses. Creativity combines with its flashy colors, it screams "read me" or "look at me".
The maker of the Astrobright papers is sponsoring a sweepstakes called "Give a Brighter Year", which started last July 16 and will end on September 10, 2012 at 11:59pm. The lucky winner will get a $500.00 gift card and school supplies valued at $30,000.00 for the school of his choice. In support of my little mushroom's school, I joined the sweepstakes. If you are interested, go online to Astrobrights Facebook page, click on the link to the "Give a Brighter Year" page to access the sweepstakes application. Click on the "Like" button and then the "Go to App" button to get started. No purchase necessary.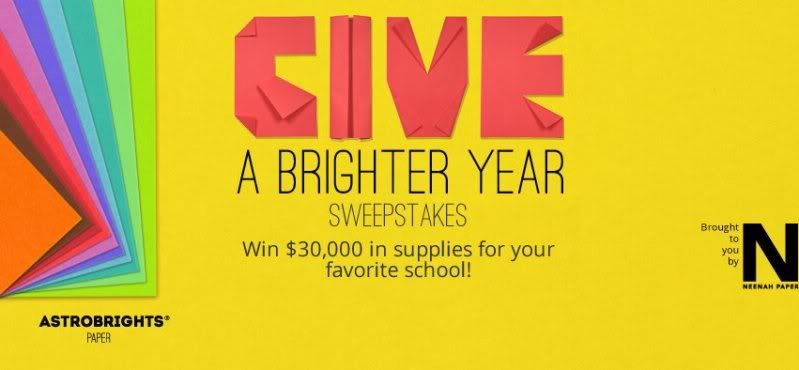 For the craft fanatics out there, there is also a contest especially made for you. "Make Something Astrobrights" will challenge your creativity. What is at stake? Astrobright paper products and other prizes! Who knows you will turn your hobby to a money-generating activity. Go to the Astrobrights Facebook page for the details.
Good luck!